Easy Way to Decorate a Chandelier for Christmas
Are you looking for ways to make Christmas decorating less complicated? Or maybe you are just looking for an easy way to decorate a chandelier for Christmas…
Every year when I am decorating for Christmas, I like to add lots of greenery around the house. We always put up a fresh Christmas tree and on the years I feel motivated, we add an artificial tree in our foyer.
For the past several years, I have decorated my kitchen chandelier with fresh greens. Although I love the look, I don't love the hassle of using fresh greens.
The hassle of fresh greens on a Christmas chandelier:
The fresh greens usually come attached with wire. In order to make the greenery fit the chandelier properly, I usually end up removing some or all of the wire…not fun.
My hands always get covered with sap and it takes forever to wash off.
Fresh greens dry out quickly, especially sitting up there near hot light bulbs…fire hazard anyone?
Dry needles fall on the table. Sure, I want my kids to eat more green vegetables…but not pine needles!
One year, I thought of using one long piece of faux garland instead of the fresh greens. That idea ended up being a failure because the garland drooped in certain areas and blocked too much of the light over the table.
This year, I attempted another way to decorate our chandelier for Christmas…
Here is my easy way to decorate a chandelier for Christmas with the look of fresh greens:
Purchase loose bunches of faux greenery for the craft store.
I just picked up these two bunches from Michael's Craft store. They almost always have a sale going on and I happened to get mine at 50 percent off. While I am in line, I always check their website for any coupons. Usually, they have some kind of extra discount so it doesn't hurt to check.
Cut the bunches with wire cutters so you have several smaller bunches.
As you can see in the photo above, I also taped up the ends. * Paranoid mom tip* – Sometimes when you cut the artificial branches, some of the wire sticks out on the ends. I didn't want to cut myself or anyone else who might touch the ends of the greenery so I simply covered them with tape.

Lay the branches on top of the chandelier and overlap the ends so the pieces look connected.
Depending on your type of chandelier, you may or may not have to use something to keep the pieces in place. Luckily, I was able to tuck my greenery under each piece and wedge some under the parts of my chandelier. (Even my taped-up ends are hidden!)
The pieces stay in place and there is no drooping so the light doesn't get blocked.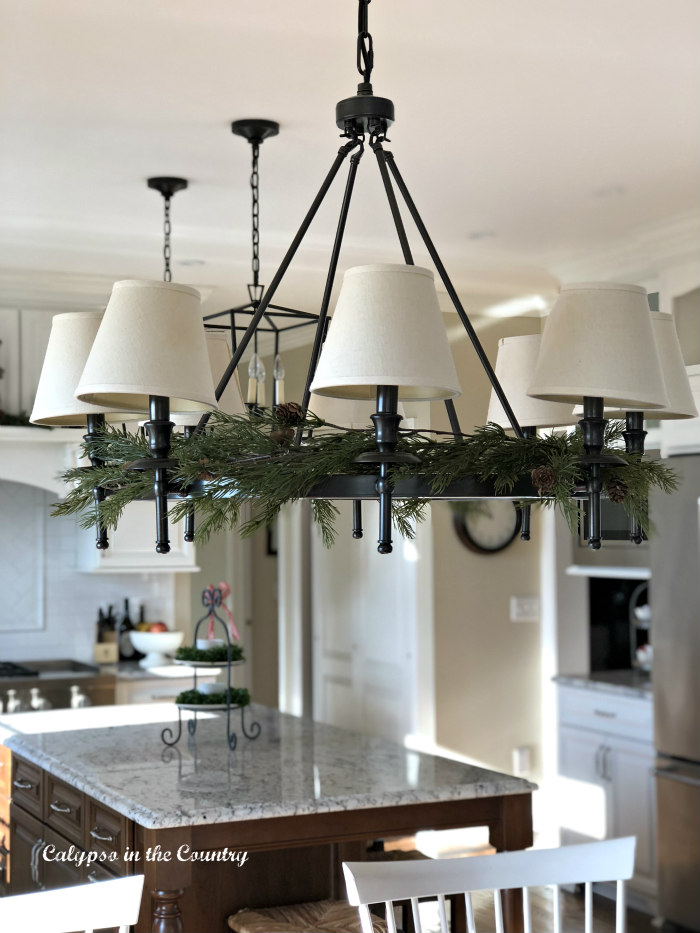 With just a few simple steps, the chandelier is decorated for Christmas!
Now we don't have to worry about all those falling needles in our food! Plus, we can reuse the same greenery year after year!
Don't you just love quick and easy solutions?
Please note that this post contains affiliate links which means if you click over and purchase something, I will receive a small commission at no additional cost to you.
Like I mentioned, I purchased my artificial greenery at Michael's Craft Store. In case you can't find any similar to mine, these pine sprays have a similiar look and you could always mix in these pine sprays with berries.
Here are some more greens to choose from:

Have you discovered your own easy way to decorate a chandelier?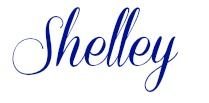 I'd love for you to follow along so you don't miss a post!
Follow by email – HERE
Instagram / Facebook / Twitter / Pinterest
Sharing at these blog parties: