Choosing a Stair Runner (Things You Need to Consider)
Now that my foyer is freshly painted, my next step is choosing a stair runner. If you are in thinking about possibly adding a runner to your stairs, today I'm sharing some things to consider.
Choosing a Stair Runner:
Things to consider in your home…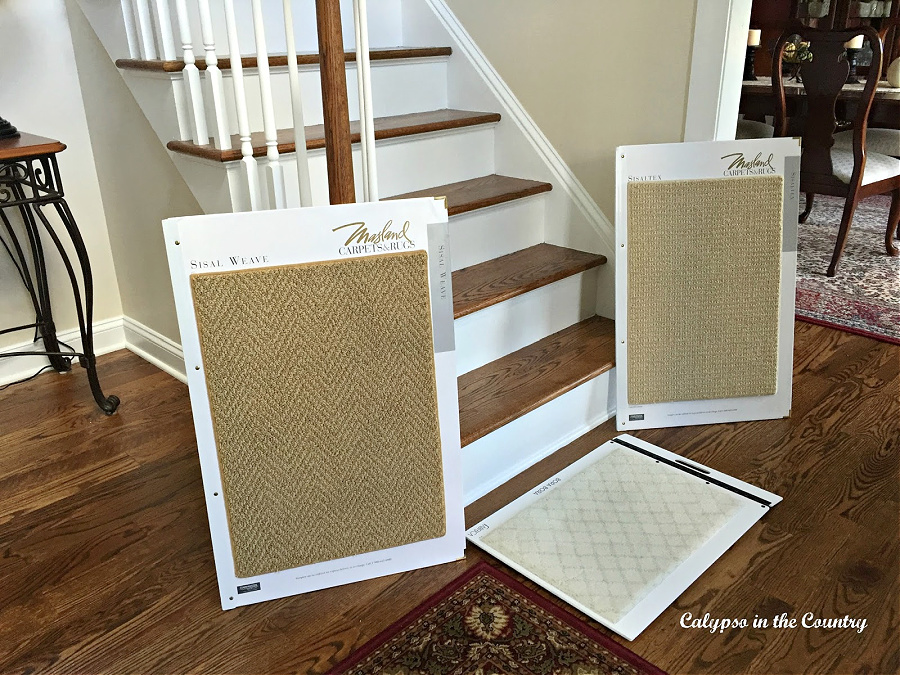 Safety Issues with Wood Stairs:
If you have a young family, wood stairs might be too slippery for you.
Normally, I don't move to the next project so quickly but now that we've hit "sock weather", we have all become very aware of how slippery those stairs can be. Just the other night, my son slid down several stairs. Luckily, he didn't get hurt!
Even my poor doggie is very nervous every time she climbs up and down our stairs. She walks cautiously like she's a little girl trying on high heels for the first time. So, I just can't put her through that every day. Since goldens are prone to hip problems, I don't need to add to that potential issue!
Wear and Tear From Family and Pets:
Like I mentioned, I have kids and a dog so obviously the stairs will take a beating!
When considering stair runner options, I made sure I looked at durable rugs.
Yeah, that's my attempt at posing her paw on the rug sample. She refused to stand on it so the best I could do was put the sample next to her and move her paw over…
Afterward, I got this sad look from her as she moved her paw away. I don't think she was in the mood for blog posing that day.
Color and Style:
Anyway, I quickly narrowed down my options and brought a few samples home. I knew the look I was going for because I have saved the same style of pictures for years. I either wanted wanted a sisal-look or a tone on tone trellis or diamond pattern. As much as I would love a real sisal or seagrass, I wanted something softer on our feet. I walk barefoot often and I know I would be annoyed with a natural fiber after the novelty of its beauty wore off.
I gave myself one day to decide. The next morning, I called the rug guy to measure and ordered the rug. It should be here in 3 to 4 weeks and I will post some new pictures as soon as it gets installed!
Which one did I choose, you ask?
For our stairs, I chose the top right one in the exact color of the sample shown.
(Each sample displayed a bunch of colors on the back of the board, but that one was my favorite.) The diamond one at the bottom was the softest but was a little too "carpet-y". I wanted more of a textured look and feel. If you would like to see how it turned out, pop over and read my post, A Sisal Substitute for the Stairs.
So, as much as I love the fresh look of the wood stairs, I decided to be "practical mom" in this situation.
A this point, we still have a few weeks to enjoy the look of the bare wood stairs. In the meantime, we will all have to be extra careful with those socks…and paws…
Do you have a runner on your stairs?
Follow along so you don't miss a post!
Subscribe by email – HERE
Pinterest/ Instagram / Facebook / Twitter