Are you looking for ideas to decorate your table this Christmas? How about setting a Christmas table with a white ceramic village…
For the past year, I have been collecting white ceramic houses so I decided to use them for my Christmas table.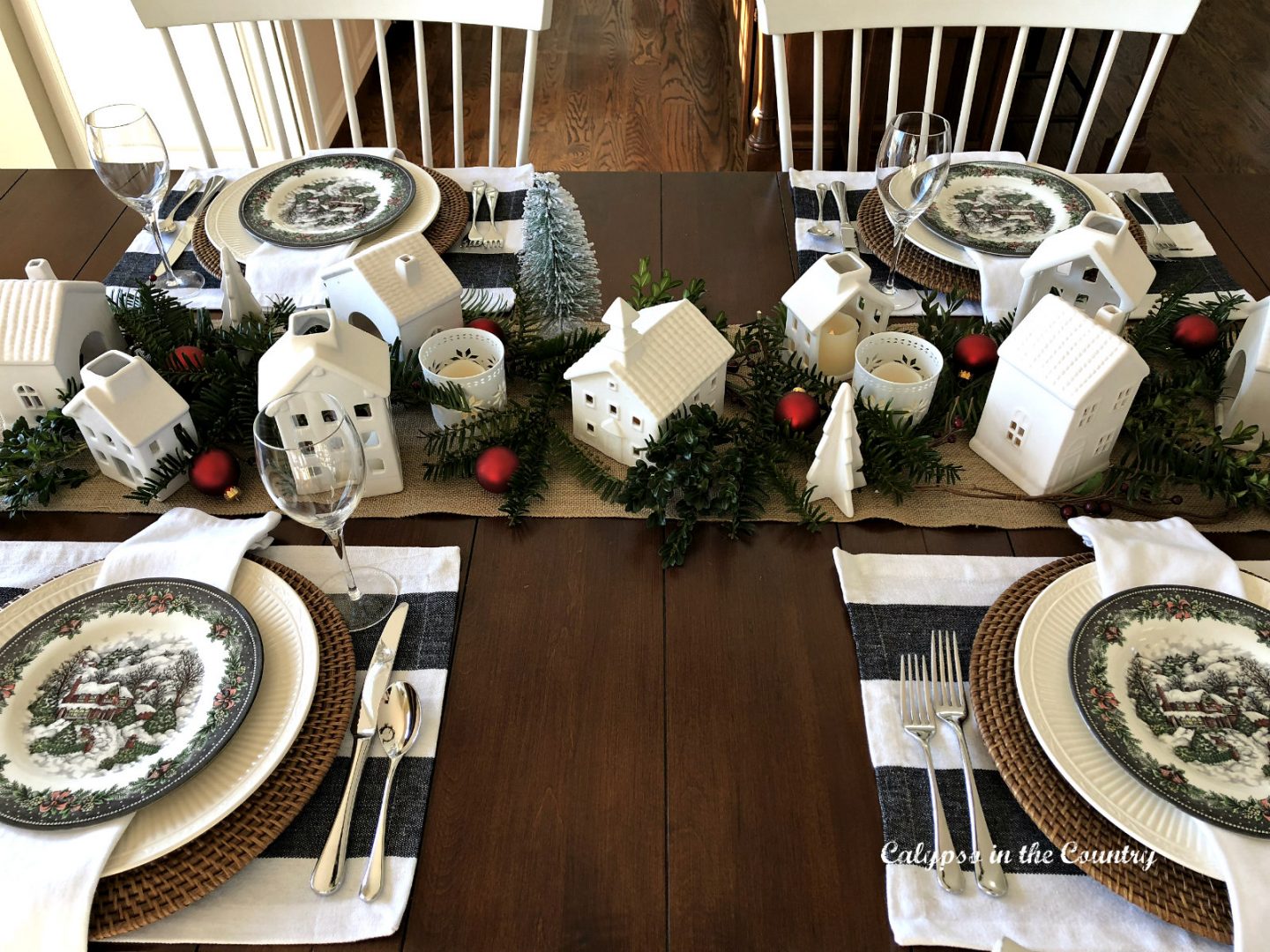 Since we are just hosting breakfast, we will be eating in the kitchen instead of the dining room.
This allowed me to decorate my table in a more casual style, which I prefer anyway. Plus, our kitchen is usually flooded with light in the morning hours. It's even brighter when the sun actually comes out from behind the clouds. Unfortunately, we haven't had many of those days lately!
For the centerpiece, I used a long piece of burlap and scattered fresh greenery cut from my landscaping plants. Then I just laid the white ceramic houses down the middle.
Even though I used fresh greens on the table, I recently used faux greens for the chandelier. You can read all about that project at Easy Way to Decorate a Chandelier for Christmas.
Adding a few red ornaments gives a little pop of color to the mostly neutral table.
As much as I love when other people decorate in neutrals, I usually need at least some color on my Christmas table. Reds and greens just feel so festive to me. Plus, what other time of year can you get away with that color combination?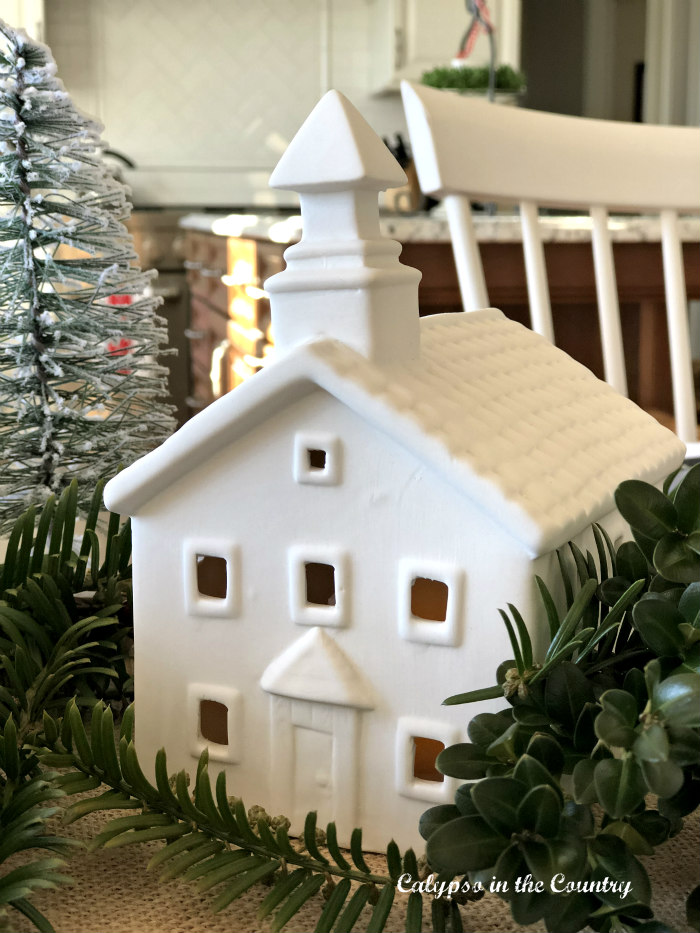 Setting the church in the middle of all the houses made the most sense, being that it is a Christmas tablescape…
I think sometimes we get so caught up in the decorating and the running around that we overlook the real meaning of Christmas.
From there, I decided to use black and white for the plates and place mats.
Most of the time I decorate a table, I have a general plan but the details are all trial and error.
Using the white ceramic houses for my Christmas table was the only definite part of my plan.
After trying a few different colored napkins, only the white ones felt right to me.
As you can see, the plates also have houses on them which tie into the whole Christmas village theme.
You might notice that the houses on the plates are snow covered, which sparked an idea to put artificial snow down the center of the table. In the end, I decided to go with the fresh greenery instead. The "snow" would have made everything too white.
How would I add fake snow, you ask? Well, I was going to use coconut shavings like I had seen on some gingerbread house displays. I even have a few bags of the unsweetened kind which wouldn't be as sticky as the sweetened. Incidentally, I should have used the coconut on a recent gingerbread house project instead of the baking soda I did use. Different story…but what a mess that ended up being…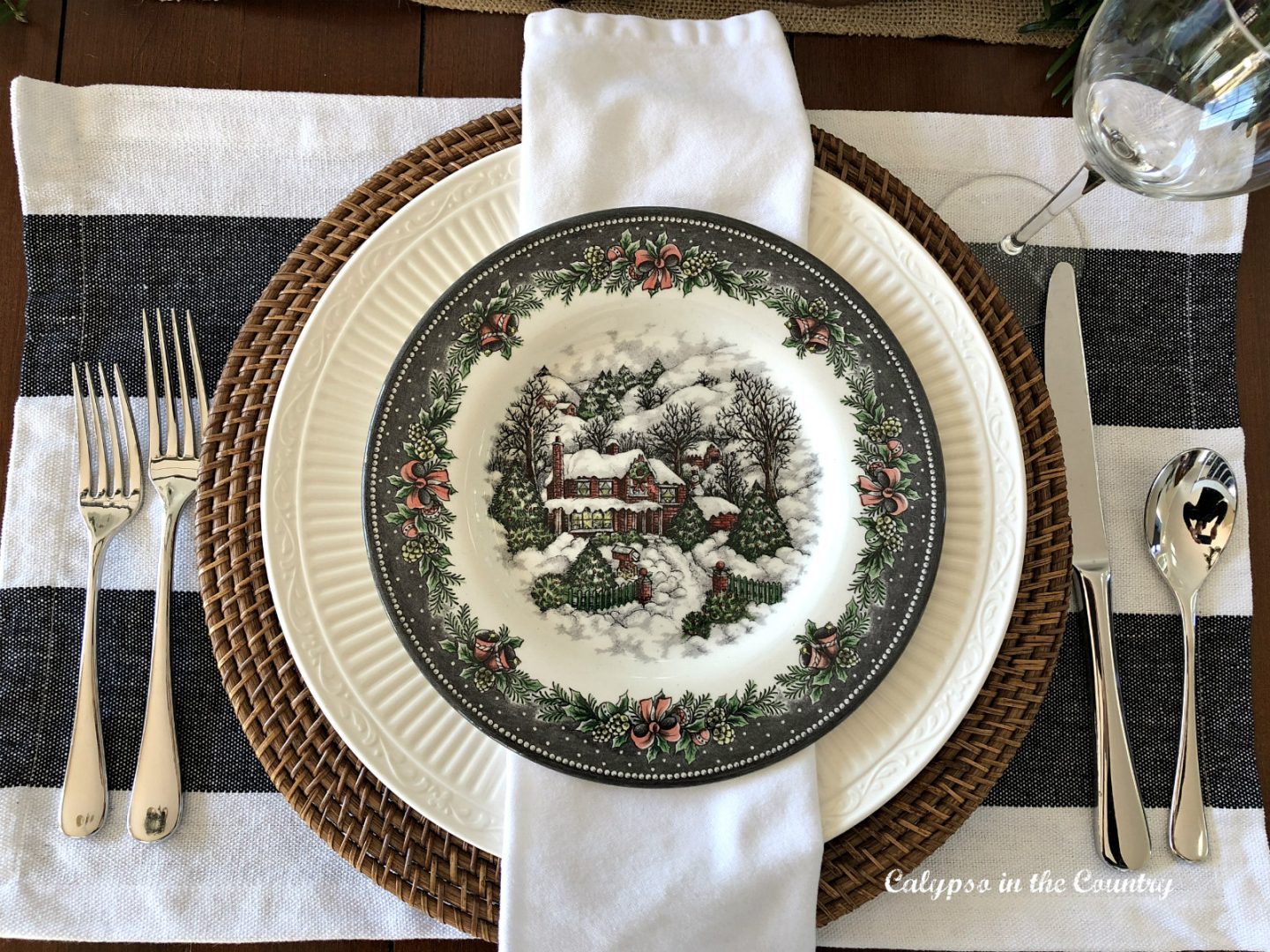 After looking at the place setting again, I am satisfied with the combination of black and white.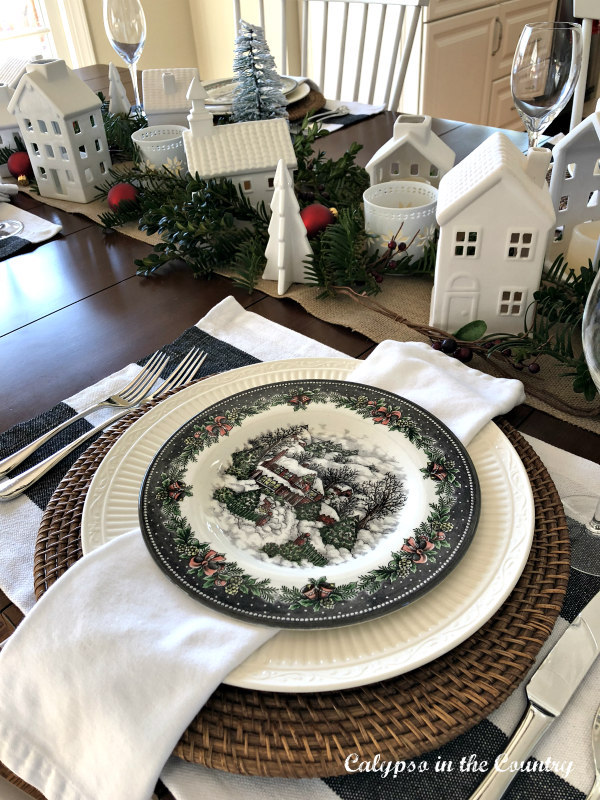 Too much color would be distracting…
After all, I have to let these cute ceramic houses be the center of attention!
I hope you were inspired by my Christmas village table setting!
Christmas Table Sources:
I have provided sources below for your convenience. Please note that this post contains some affiliate links and I will receive a small commission if you make a purchase after clicking my links at no additional cost to you.
Here are some related Christmas table ideas:
How are you decorating your table for Christmas?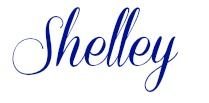 I'd love for you to follow along so you don't miss a post!
Follow by email – HERE
Instagram / Facebook / Twitter / Pinterest