Plantation Shutters in the Living Room – A Clean and Classic Look
Last week, we installed plantation shutters in our living room…and now I'm wondering what took me so long! Over the years, we've slowly added these classic shutters to several rooms. Each time we have them installed, I'm amazed at what a difference they make. Take a look at some before and after photos of our living room…
Classic Plantation Shutters in the Living Room:
Now, I can finally cross that item off my list of things to do in there. I wrote a post (last year) about how I planned to make 3 Simple Changes to Lighten Up My Living Room. Sure, it's taken me awhile and I still have 2 more items to go but hey, progress is progress, right?
Here is how my living room looked before we installed the plantation shutters:
Originally, we had Hunter Douglas Silhouette Shades in there which were fine…but I always wanted plantation shutters. Since shutters are a bit of an investment, I waited for them to go on sale to order them.
This time (and the last few times) I used the company, Sunburst Shutters but this is not a sponsored post and I am not being compensated in any way to mention them or the shades. (I just like to share names of companies when I am happy with them!)
And I am definitely happy with the company…and the shutters! We can still see out, yet have some privacy.
If we want to open them all the way, we still can. One thing that held me back initially was the fact that the middle shutters wouldn't lay flat against the wall when all of them were open. But now that they're up, it really doesn't bother me. Though, it's definitely something to consider if you're purchasing plantation shutters for a row of windows.
In our case, we could always just open up the middle one if we wanted. Probably most of the time if we want to let in a breeze, we will open the windows and then put the shutters back in place anyway.
Most likely the shutters will stay in this position but I will have to live with them for awhile to be sure. Although it's a living room, I still want that laid back, slightly tropical vibe. I can't wait for the sun to start shining so I can take some really good pictures. (Will the sun EVER shine again? I am starting to wonder!)
Here's a more current photo with the sun shining in…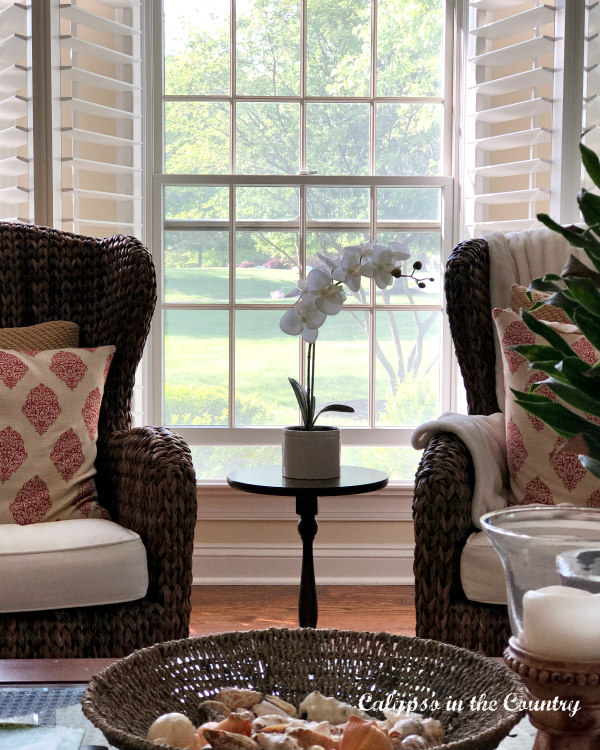 It's been nice to take a little break from obsessing over the dining room. To catch you up on that – I decided to attempt the One Room Challenge this round and I am a bit crazy lately. Crazier than usual, that is!
So back to the plantation shutters…As I mentioned, I also have plantation shutters in a few other rooms such as my home office…
If you want to see more rooms where I have added them, please click over and read my post, Adding More Plantation Shutters.
Now that we've added plantation shutters to our living room, I'm already planning where I can add them next!
Do you have any plantation shutters in your home?
Follow along so you don't miss a post!
Subscribe by email – HERE
Pinterest/ Instagram / Facebook / Twitter