Block Print Home Decor – Beautiful Ideas and Finds
Happy weekend and welcome to the Saturday Spotlight! Each week, I like to focus on a different theme or topic to inspire you. Lately, I've been seeing lots of block print patterns in the stores and online. Personally, I love the look and have incorporated a few items in my home over the years. So, this week I'm sharing ideas for block print home decor! Enjoy the inspiration!
*For your convenience, please note that this post contains affiliate links. If you make a purchase after clicking my links below, I will receive a small commission (at no additional cost to you).
Wood Block Printing Basics:
With origins in India, block printing is an ancient technique dating back centuries. Basically, skilled artisans engrave designs on wooden blocks and then stamp them onto fabric. Though you can buy authentic block printed textiles through small businesses, some mainstream retailers now create mass produced designs. Either way, if you love the look of hand block printing, there are plenty of home decor items to choose from these days.
Block Print Home Decor Items (in my home):
Tablescape with a Block Print Tablecloth:
For Mother's Day one year, I decorated my dining room table using a block print tablecloth. Since the block print pattern felt casual to me, I used other informal items like rattan and simple daisies for the flowers. Then to complete the tablescape, I added a touch more of blue in white with the simple striped napkins also in a cotton fabric. If you'd like to see more photos of the table and the rest of the room, read here – Mother's Day Tablesetting.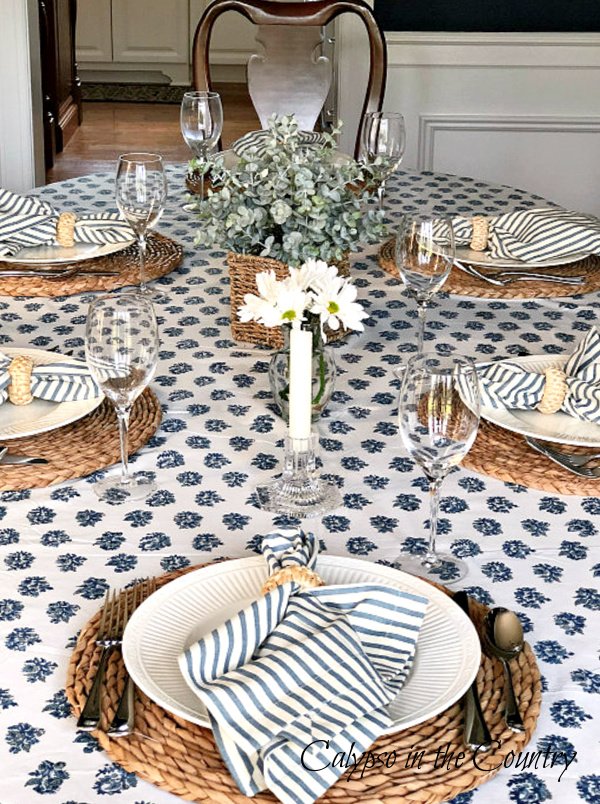 *By the way…if you love this block print tablecloth, you're in luck because Pottery Barn started selling it again! It's 100 percent cotton and you can machine wash it in cold water. Also, they now carry an outdoor version with an acrylic coating as well!
Tissue Box Cover in a Block Print Pattern:
Recently, I purchased this pretty tissue box cover in a batik pattern block print look. With all the blue and white in my home office, it fit right in. Plus, the color and pattern works so well with my coastal aesthetic in there. (And during allergy season, a box of tissues is a necessity in my office!)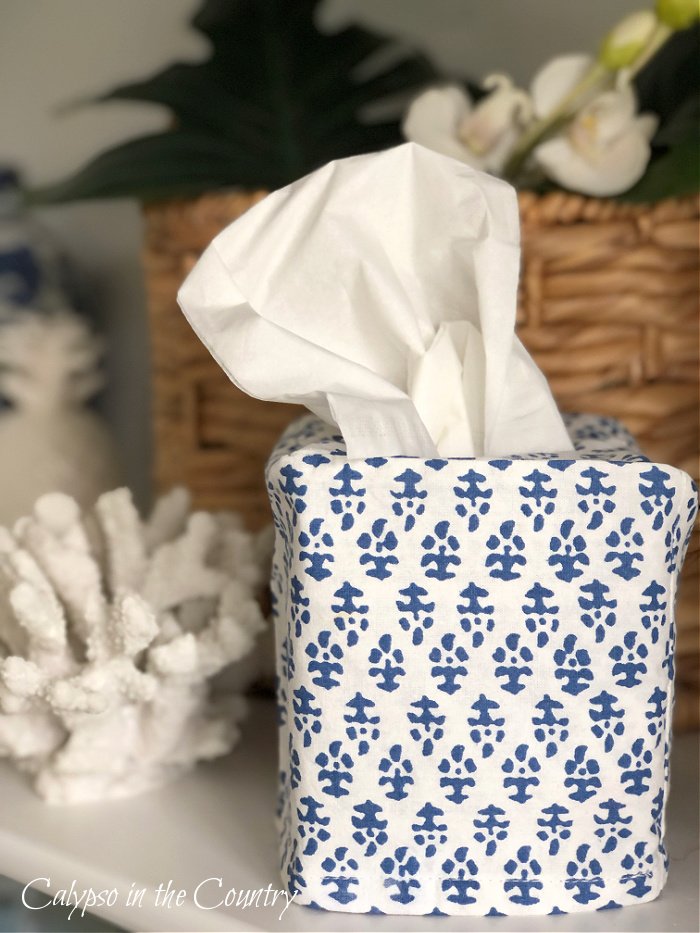 *At the moment, my exact tissue box cover is sold out but here are all the similar versions with slight variations of color.
Block Print Pillows:
In my family room, I brought out my blue and white block print pillow for spring. With the white background, it feels so fresh for the warmer months.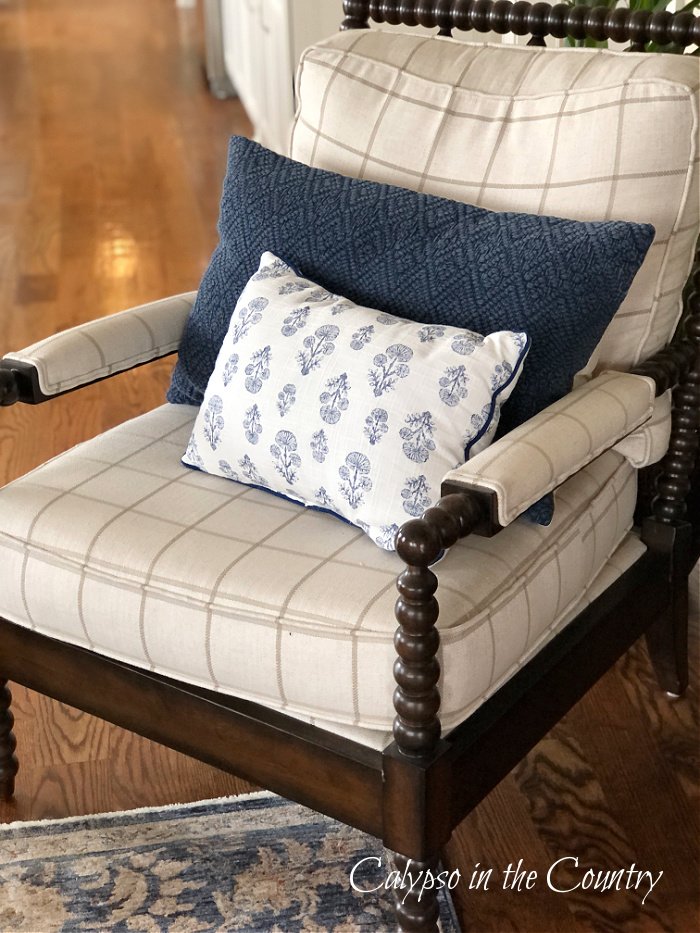 *Since I bought my block print pillow at Target a year or two ago, my exact one is no longer available. Though, I did find this pretty pillow with a similar pattern if you're interested!
In my living room, I also have a couple pillows with red block print patterns. Yes, what a surprise that they're not blue and white like everything else in my house!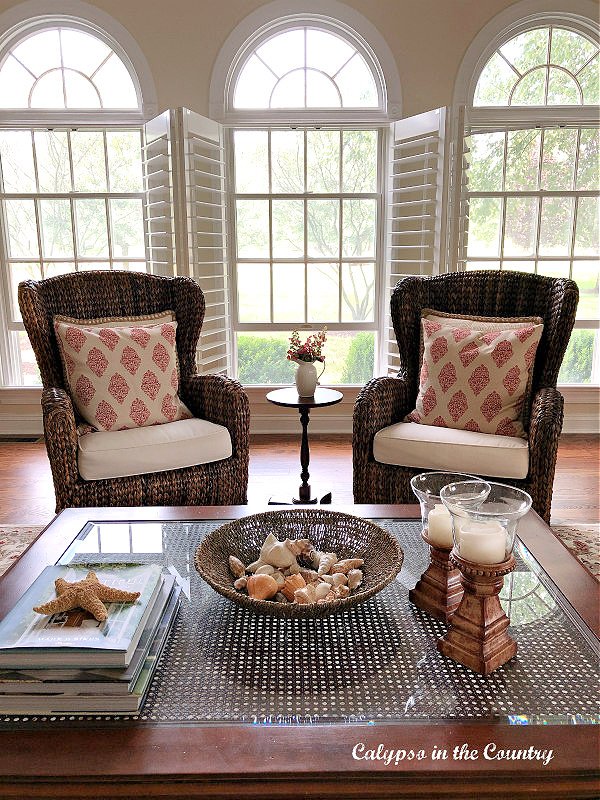 Actually, with all the darker woods, seagrass chairs and plantation shutters, the red block prints add to the well-traveled vibe you frequently see in British Colonial design. Though, I can't promise I won't switch the pillows to a blue version one of these days!
Block Print Curtain Panels:
Another spot in my home where you'll find block print decor, is in my dining room. Years ago, I bought these patterned curtain panels at Homegoods and hung them when I made over the room. The subtle medallion pattern is classic and would work almost anywhere.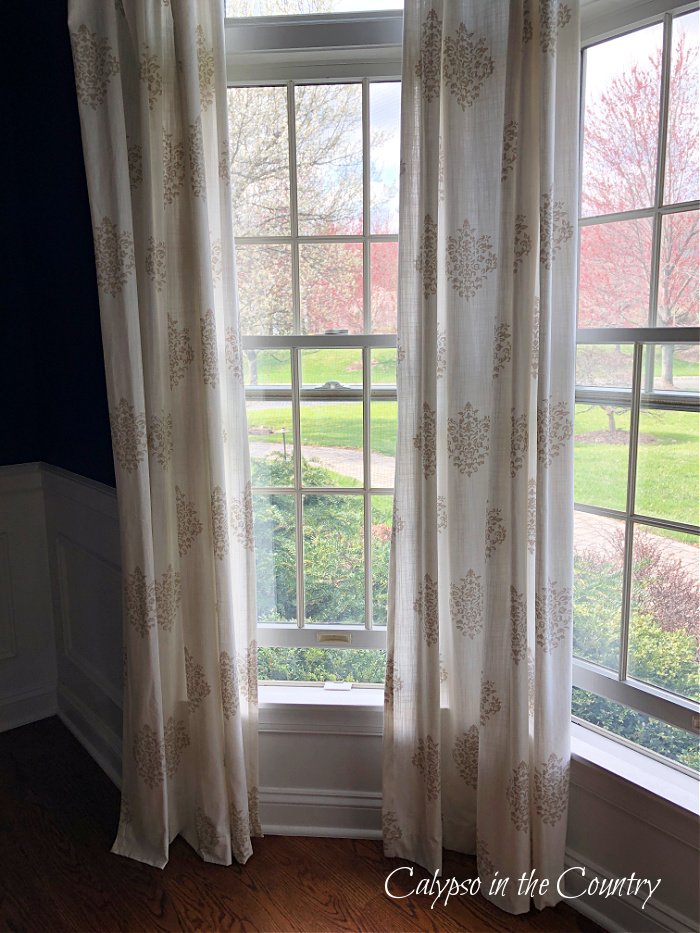 *If you're looking for similar block print curtains, these curtain panels have the same look and they have positive ratings.
Block Print Home Decor – Recent Shopping Finds:
Whether you're decorating the table for Mother's Day or any spring gathering, block print napkins like these will brighten up any table setting!

Freshen up your home for spring with some block print pillows! These pretty pillows some in several sizes and colors!

If you want to jump on the block print home decor trend but don't want to spend a ton, this pretty artwork is inexpensive. Plus, these art prints come in several sizes so you can display them on a tabletop or as wall art. (frames not included).

For even more block print home decor ideas, here are some finds from around the internet:
Hopefully, I've given you some ideas to decorate with block prints in your home!
Do you have any block print decor in your home?
Follow along so you don't miss a post!
Subscribe by email – HERE
Pinterest/ Instagram / Facebook / Twitter