One Room Challenge Week 4 – (Rugs and Art)
So..here we are in week 4 of the One Room Challenge. Things are moving along in my dining room, yet not as fast as I had hoped.
My small rug arrived so I could test it out in the room for colors…
Yes, you might think it looks good with the wall color, but I feel like the blues in the rug are a little gray and make the walls look more of a blue-blue than a navy.
Of course, the rug won't be standing up, so I also provided a picture with the rug on the floor…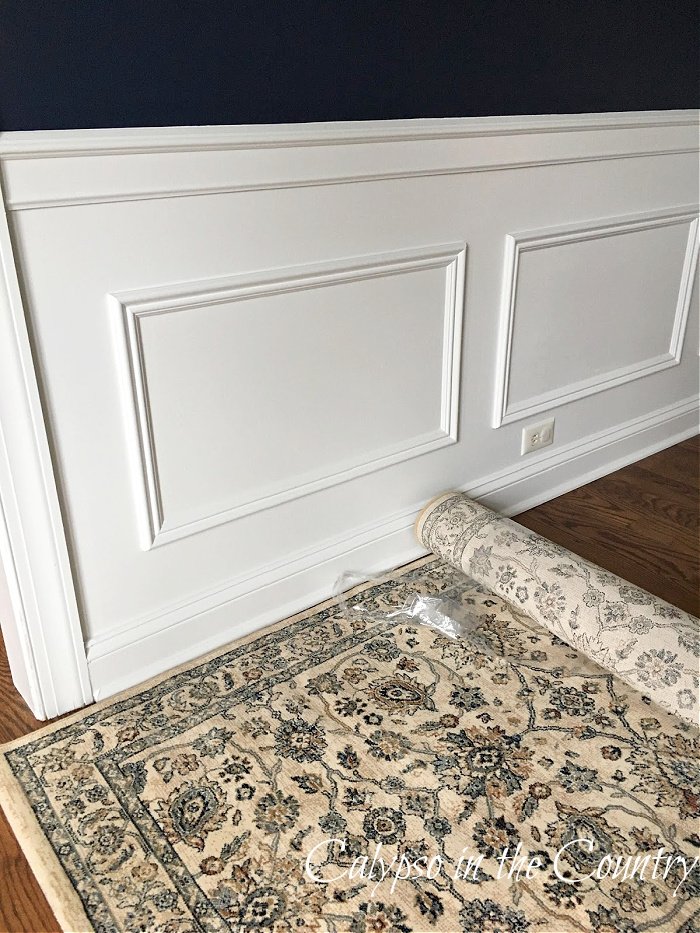 Not bad, but as the room comes together, I don't think this is what I want. Plus, when you look close up at the rug, you can see all these tan dots in the cream area. I can imagine the dots will be even more noticeable in an 8 x 10 rug…
I know they were just trying to make the rug look a little antiqued but I don't think that is what I want. I have to say, it is very soft though, which is why my family is going to kill me when this one arrives today…
As much as I would love something soft in there, I love the look of seagrass and I think this is the direction I am going in there. I will let you know how it works out.
You might wonder, Why don't you just do a mood board? Well, I started one but I have changed so many things along the way as I bring them into the room. At this point, it's trial and error.
Like with my artwork. I don't want to go too beachy in here but I have had these shell prints for awhile so I am giving them a try.. I don't want anything too distracting so the navy can be the star of the room. I am just SO in love with that color! So, of course I am freaking out about messing up the beautiful paint job by hanging things on the walls…
This weekend, I hope to change the fabric on the chair seat covers, hang the white curtains that I still have to buy and…I need to go over my list again. Anyway, things are moving along….
In case you need to get caught up, I listed the links to the first three weeks of my project:
Also, be sure to visit the other guest participants in the Spring 2018 – One Room Challenge.
What are you up to this week?
I would love for you follow along so you don't miss a post!