Island Inspired Fireplace Mantel Decor
Is it just me or doesn't it seem like spring should arrive right after Christmas? Instead here in New Jersey, we have had spring-like weather all the way through Christmas and now it's finally starting to get cold! Oh well!
Either way, we are in that 'hard to decorate season' where you don't want to pull out all the summery accessories yet but you just can't leave the Christmas decor out either! Recently while decorating my fireplace mantel, I thought about trying a wintery/pine cone/cold weather influenced look. Unfortunately, it didn't work. I just kept dreaming of a vacation in the Caribbean and this is what I ended up with…
My Island Inspired Fireplace Mantel
Needless to say, I am craving some island sun! I gathered some pieces from around the house and put together a mantel with a vacation vibe. The photo of my darlings is from my office. I had a similar one but in black and white on the mantel this fall. With all this gray, dreary weather, I wanted more color up there!
The photo was taken at Rum Point in Grand Cayman years ago and has always been one of my favorites! Plus, I figured it couldn't hurt to have a vacation photo where we can all see it. Maybe my husband will suddenly want to swap some ski time for some beach time this spring! (I attempted this subliminal approach before and failed…See Operation Caribbean Vacation.)
Anyway, I feel happy when I go in the family room and how could I not, with my Rosie always in there to greet me?!! She always manages to work herself into my photos…
Maybe if we get some snow I will get motivated to go with more of wintery look…after all I am still enjoying the newness of my fireplace. Remember what it looked like before?
Yes, a totally different look. As you can see, I've done a Spring Vacation Mantel once before.
But Rosie was much younger then…
Awww…hard to believe she was ever that little!
Back to the present…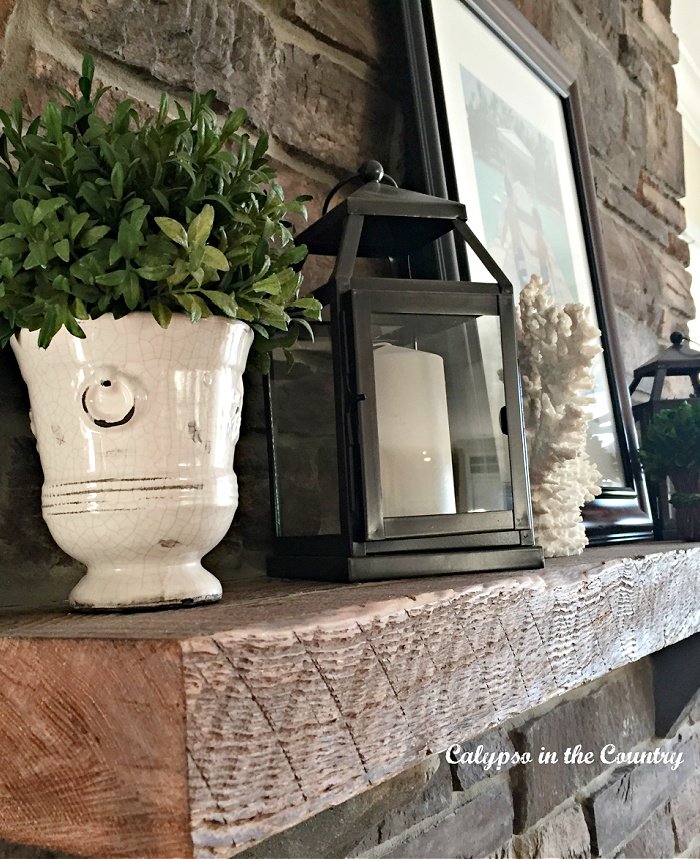 Now that the mantel is done (for now), I can focus on getting a permanent rug for this room. I moved in the old Ballard rug that was under our kitchen table last year. It's too small for the family room but I needed something in here to warm up the space. Plus, Rosie was slipping on the wood floor every time she jumped off her chair. I don't want my baby getting hurt!
I forgot to mention the new fireplace screen. My husband bought it for my birthday a few months ago. Pretty good job, huh? Maybe I should just let him decorate the whole house!
Or instead, I can hope my 'Island Inspired Mantel' makes him want to take a vacation!
Hey it can't hurt!
Feel free to click over to – Island Dreaming if you need an island fix yourself!
What is on your fireplace mantel this time of year?
Follow along so you don't miss a post!
Subscribe by email – HERE
Pinterest/ Instagram / Facebook / Twitter