A Caribbean Christmas Tablescape
If you want to give your table a tropical feel for the holidays, try decorating a Caribbean Christmas tablescape this year!
Caribbean Christmas Tablescape:
Hello everyone! Since I can't live in the Caribbean, I thought I would try to have a Caribbean Christmas at home!
So, I started with these first few shots…
Yes, that is one of my beach sarongs. It really pulls in all the color.
Oops, where did that knife come from?
A Pottery Barn side table.
But we are not finished yet…
I took a few things off the table since I don't like to leave glasses etc out with two crazy boys running around my house.
And I thought – wait a minute…I think I like it better without the sarong…
(Oh, yes and that stray knife from the earlier pictures!)
Yes, much better…
Except the candle is too small. I had another one in there but it wouldn't light so I tried to dig out the wick (hence the stray knife). That didn't work so I just have to live with this smaller candle…
And because I am insane, I then dragged out the crystal and silverware and re-lit the candles…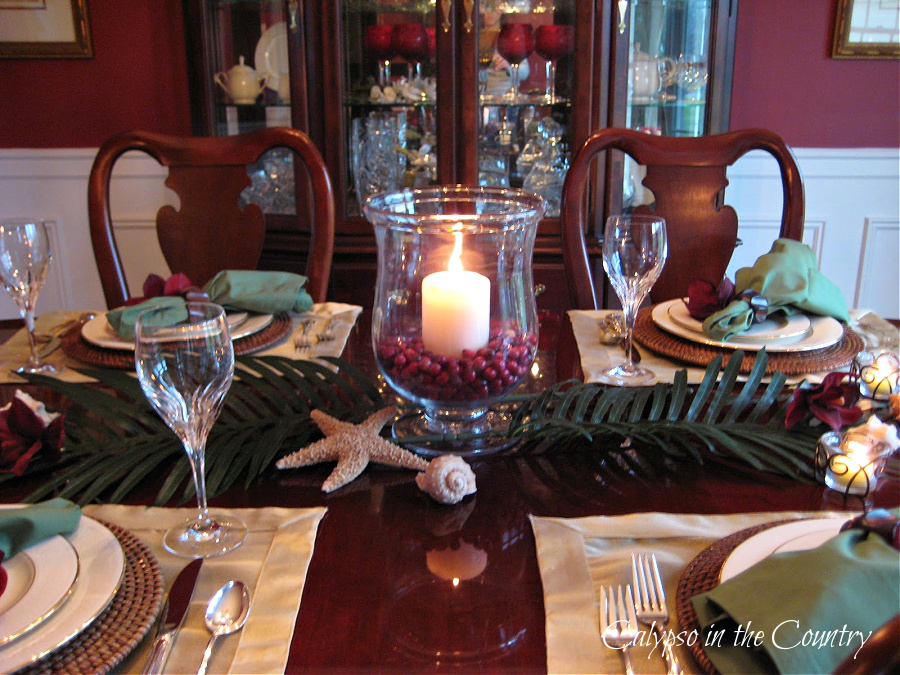 Ahhh, much better…and look no stray knife!
So here are some revised shots.
What do you think? Sarong? No sarong? Knife?….
Thanks for visiting!
Caribbean Christmas Table Sources:
China – Lenox Courtyard Gold
Crystal- Nortake
Silver- International Silver Joan of Arc
Placemats – Linens N Things
Chargers – Pier 1
Napkins – Kohl's and Bed Bath & Beyond
Napkin Rings – Kohl's
Votive holders – Southern Living at Home
Flowers – Michael's
Hurricane Vase – Crate & Barrel