About four years ago, I started thinking about changing my foyer -see HERE.
Well…now that we are ripping out the tile and installing hardwood floors, the staircase is has now been added to the plans! Hooray!
The oak has faded and the runner has seen better days (with kids and a dog!)
So the plan is to re-stain to match the new floor, change the spindles to white and replace the carpet runner. The walls are currently Benjamin Moore Bone White but I might change the color. Either way, the walls definitely need a new coat of paint. Don't tell my husband though. I haven't broken that news to him yet. He is currently sweating in front of a calculator, figuring out how much my mid-life-crisis-house-remodel is going to cost him!
Here are some samples of the look I love:
If I didn't have a dog, the staircase above would be perfect! But we definitely need that runner!
This runner and foyer are gorgeous!…
AMW Design Studio via Houzz
The runner and area rug above are from Coastline Collection of Stanton Carpet and I love the way they look with the hardwood floors! I also love the idea of a patterned stair runner to hide the possible doggie footprints!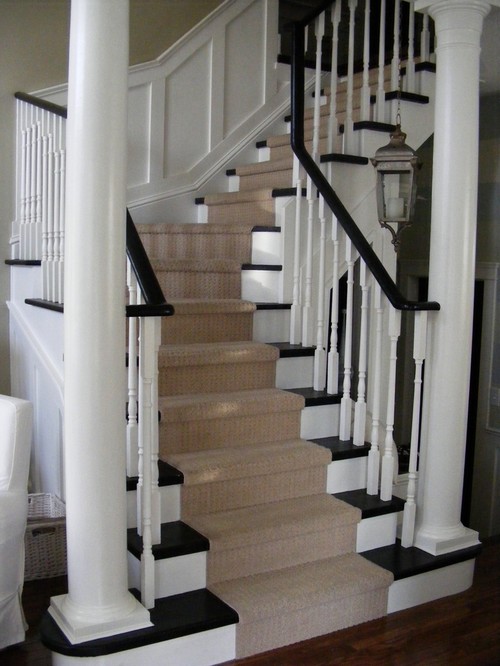 Traditional Staircase by Oshawa Interior Designers & Decorators Chris Kauffman
Although a textured carpet like the one above might be the way to go.
I do love sisal though…
Traditional Staircase by New York General Contractors Benco Construction
I love the look of sisal but I think I need to go a bit softer for our precious little feet (paws included!)
I am going to start bringing home samples to decide but it's hard when the new floors aren't in yet. Yeah, I am a bit overwhelmed with this remodel to say the least. I think I need a vacation…Oh wait, we can't afford one now…
What kind of stair runners do you like?