Finally, we've had a few warm, sunny days so it's time to start enjoying some outdoor living! How I would love to sit out on a porch and enjoy the beautiful weather!
Since we don't have a large porch on our home, I am always drawn to porches when I go on vacation. Apparently, I am drawn to rocking chairs on porches as well because I seem to choose the hotels that have them…
Please note that this post contains affiliate links which means I will receive a small commission if you make a purchase after clicking my links (at no additional cost to you!)
Rocking Chairs on Porches – Inspired by Hotels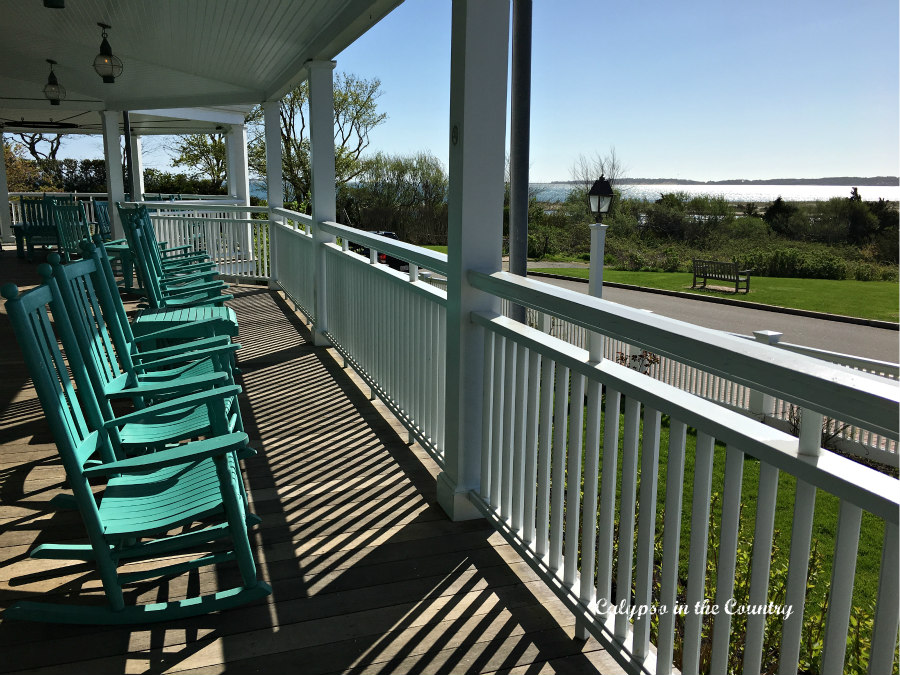 Martha's Vineyard:
A few years ago, I visited The Harborview Hotel in Martha's Vineyard for a girls' getaway. As you can see, we chose a hotel with gorgeous turquoise rocking chairs facing the ocean. Even though it was chilly that weekend, we spent as much time as possible out on that porch!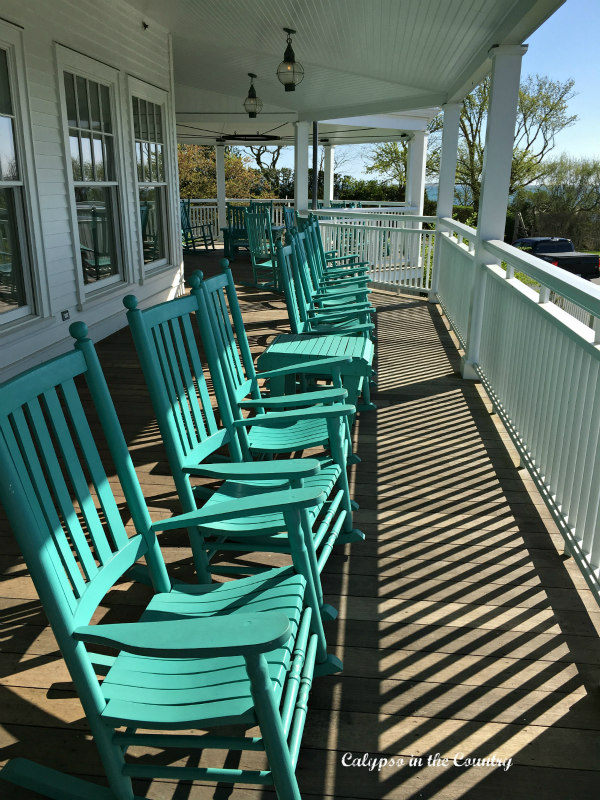 Similar rocking chair in white / Child-sized turquoise rocking chair / Another style in turquoise
Recently, I learned that the Harborview changed the turquoise chairs to white ones when they renovated the hotel. Admittedly, I was slightly heartbroken because I thought the turquoise color gave the chairs character. Obviously, they forgot to consult me when they made the change…
Regardless of the color, can you imagine sipping a cup of coffee or tea out there in the morning sun? Note to self…book another trip to Martha's Vineyard!
Virginia Beach:
Last year for our girls' weekend, we chose a hotel in Virginia Beach. Ironically, they had rocking chairs on their porch too!
Similar Wood Rocking Chair
Although those chairs were pretty, they didn't melt my heart the way the turquoise ones did. Plus, there was no ocean view.
From there I wasn't messing around, so I headed to one of the prettiest porches with rocking chairs in the world…
Waikiki Beach – Oahu, Hawaii:
Last summer, we took our family to Hawaii and stayed at the iconic Westin Moana Surfrider.
Rocking chairs on a porch in a tropical setting – can you get any better than that?
Similar looking rocking chair in polywood
After an 11 hour flight from the east coast, you can bet I plopped myself down on one of these babies. What a perfect spot to enjoy the island breezes while watching all the happy vacationers arriving.
Even though I had fun sitting on the front porch of the hotel, the back patio was an equally relaxing spot to lounge…with a Mai Tai or two! Best of all, this location had an ocean view and was only a few steps from the bar. Mai Tais for everyone!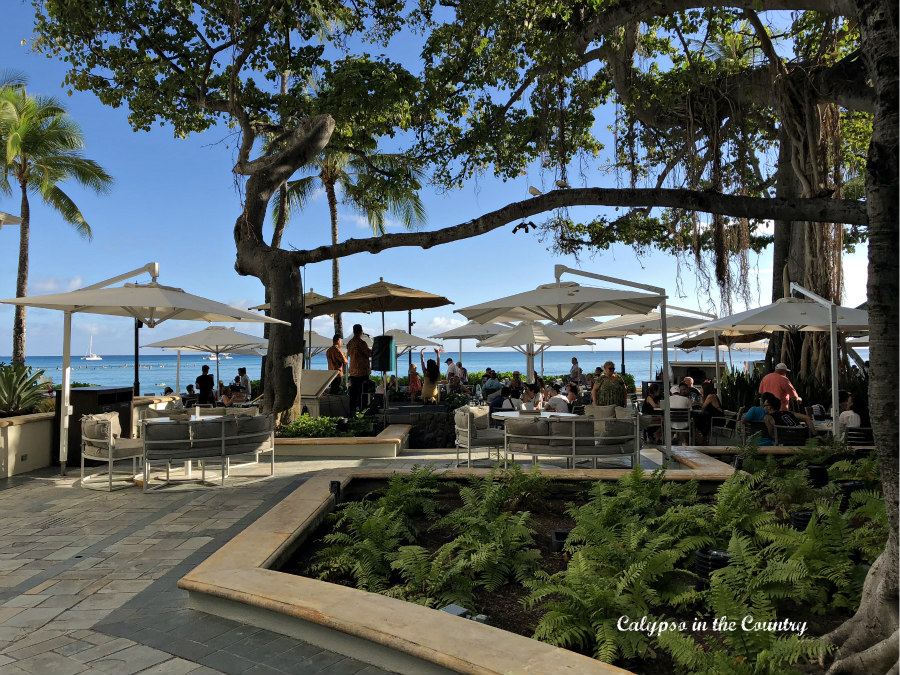 Ka'anapali Beach, Maui:
After a few days in Oahu, we headed to Maui for our next hotel with rocking chairs…
How's this for an open air lobby? For the next week, we enjoyed every moment of our stay at the the Westin Maui Resort and Spa! Of course, we spent some time lounging in their rocking chairs by the waterfall while we were there.
If I ever get my act together, I will write a trip report about our stay in Maui. Next month, it will be a year since our visit…I guess it's time I shared that vacation!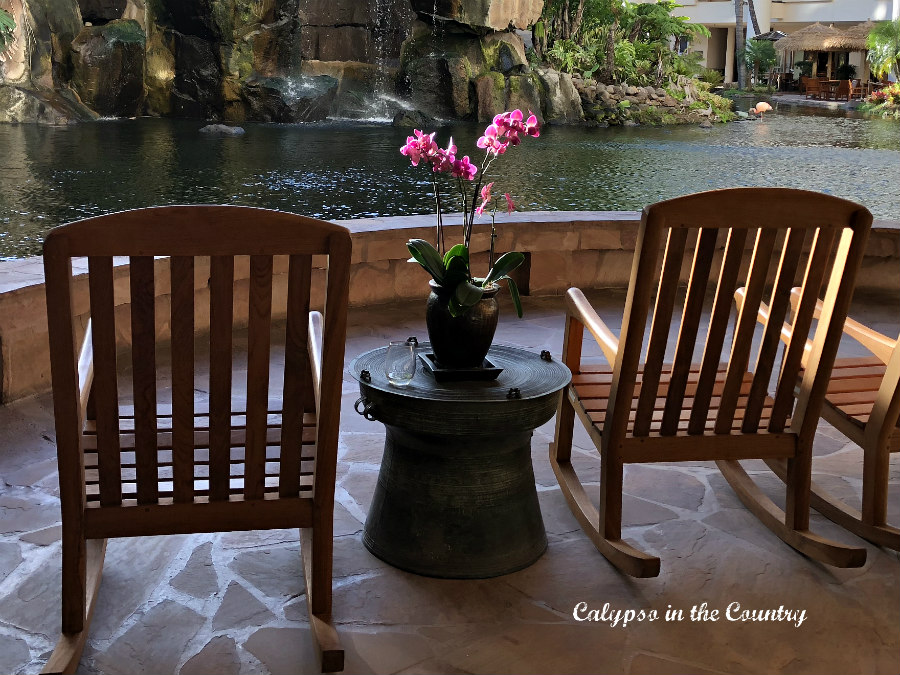 Similar chair in teak / Another option set of 2 with cushion
Wasn't that a fun trip down rocking-chair-memory-lane? When I plan our next vacation, I think I will make rocking chairs a requirement…I'm on a roll.
Have you spotted any pretty rocking chairs on vacation?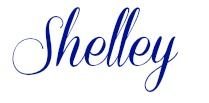 I'd love for you to follow along so you don't miss a post!
Follow by email – HERE
Instagram / Facebook / Twitter / Pinterest